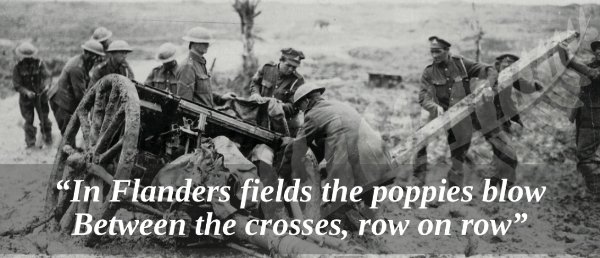 Education Minister Nikki Kaye and the Arts, Culture and Heritage Minister Maggie Barry have announced the winning students who will be flying to Belgium to attend the 100th anniversary commemorations for the Battle of Passchendaele.
The competition was launched by the
Ministry of Education
in May, in partnership with the sponsors,
Fields of Remembrance Trust
and the
Passchendaele Society
.
The competition, to raise awareness of the Battle through digital technologies asked entrants to develop a curriculum resource to be used for Year 7 to 10 students in the future.
The winners will travel to Belgium on 7 October 2017 to attend the National Commemoration Service at the Tyne Cot Cemetery near Zonnebeke in West Flanders.
"Tyne Cot Cemetery is the largest Commonwealth War Grave Cemetery in the world," says Ms Barry.
"It is also the final resting place of 520 New Zealanders and a memorial to those missing in battle. They will also attend the New Zealand Memorial and Garden Opening on 12 October 2017. I planted a flax to begin construction of the garden in September 2015."
"This will be the trip of a lifetime for the students," says Ms Barry.
"It will be an invaluable educational experience as they retrace the steps of those who fought in WW1 in Passchendaele and Flanders Field."
The winning entries are:
Rotorua Girls' High School, Rotorua
Alyssa Mae Pineda, Kayla Kautai, Mairaatea Mohi, Atawhai Ngatai and Keighley Jones
The students created a scrolling menu of pages on their website called The Missed that detailed different aspects of the battle, a quiz to test learning and material in te reo Maori. The website impressed the judges because it enables students to think critically about the Battle of Passchendaele.
St Margaret's College, Christchurch
Alexandra Lay
The judges were impressed with the digital map that navigated users through this website. It provided a coordinated story of the Battle of Passchendaele with provocative questions, a brilliant German photo album and some great quotes providing a New Zealand context.
St Paul's Collegiate, Hamilton
Dylan Woodhouse, Tony Wu, Lucy Tustin and Conor Horrigan
The students created a website called Blood and Mud which had interactive activities and strong links to the curriculum. The judges were impressed by the use of social media, community engagement and provocative questions. They applauded the website's ability to address diversity, connect the past with present and encourage students in Years 7 to 10 to engage and do their own research. It had the standout "wow factor".