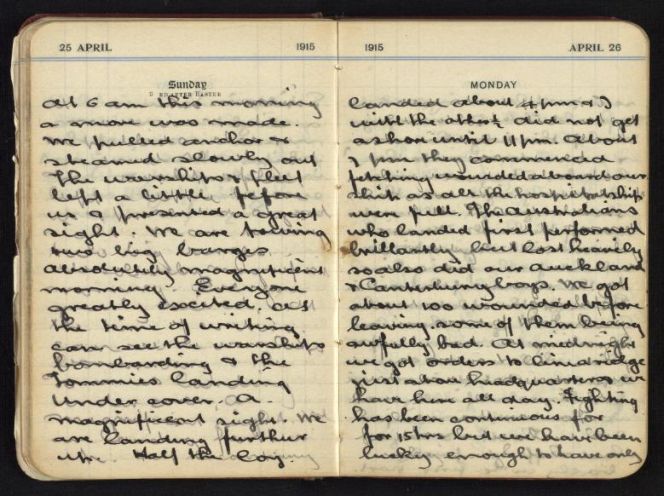 Alexander Bastin McColl. Diary entry for 25-26 April 1915,MSX-8204, Alexander Turnbull Library
I have been re-reading
In Flanders Fields, the World War One Diary of Private Monty Ingram. 2006
It is a wonderful, real time story of his life in the trenches, both funny and sad.
Letters and diaries of First World War soldiers provide a fascinating glimpse into their extraordinary everyday lives. And lucky are the families that have these treasures to read. One family has created a blog of their soldier's experience – read it here
https://walkmarch.blog/
In the late 1980s Jane Tolerton and Nicholas Boyack interviewed veterans for the World War One Oral History Archive held in the National Library, Wellington. A book of selections is available:
An awfully big adventure, New Zealand World War One veterans tell their stories / Jane Tolerton 2013
And even better is to hear the voices of these soliders! The sights and sounds of World War One are gathered together on an exceptional website
ANZAC sight and sound.
John A. Lee was a politician and writer. He served in World War One, losing his left arm after being badly wounded. He was awarded the Distinguished Conduct Medal for action at Messines in June 1917. Here you can hear his experience of that battle
http://anzacsightsound.org/audios/going-over-the-top-at-messines-by-john-a-lee